Complete Guide to Engagement Ring Prongs
Alicia Briggs | August 14, 2023
Alicia Briggs | August 14, 2023
Different engagement ring settings highlight the diamond's size and brilliance while others will increase its security and durability. Few engagement ring settings are as popular as a prong setting. Engagement ring prong settings are beloved for their ability to showcase a diamond's shape and shine. But each prong setting has its pros and cons.
Below you'll find everything you need to know about engagement ring prongs and how to choose the right prong setting for your VRAI created diamond.
What Are Prongs on an Engagement Ring?
Engagement ring prongs are small, narrow bits of metal that hold the diamond in place. Prongs extend from the ring's band to securely connect the center diamond to the engagement ring. Prong settings typically feature four or six prongs, but the number of prongs depends on the diamond shape and type of prong setting.
The Pros and Cons of Prong Settings
Before choosing a prong setting, consider the pros and cons.
Pros:
Reflects light beautifully. With minimal coverage, "prong settings allow the light to hit your diamond," says Grace Taylor, VRAI's Sr. Director of Sales & CX.
Easy to clean. "You can easily get into the prongs with a soft bristle toothbrush," Taylor notes.
Highlights the diamond. "Prong settings are certainly the most popular way to set a diamond for an engagement ring because they allow the diamond to take center stage," explains Taylor.
More affordable. Thanks to their minimalist design, prong settings often cost less than more complex settings.
Customizable and versatile. With different types of prongs available, it's easy to choose a prong setting that suits your diamond shape and ring style.
Cons:
More exposure. Prong settings, especially higher-set prongs, leave the diamond's girdle exposed. This might make it easier to scratch the diamond.
Requires maintenance. Over time, prongs can get loose or break. Regular maintenance and tightening by a professional jeweler is recommended.
What Is Better: 4 or 6 Prongs?
A 4 or 6-prong setting is not better than the other but they have different benefits.
The biggest misconception between 4 and 6 prongs is that a 4-prong setting isn't secure. While 6-prong settings provide additional coverage, if your ring is high-quality and properly cared for, both settings are durable.
"All settings are designed with prongs of sufficient size to ensure the diamond is set securely," explains Taylor. "This might mean that a 4-prong setting has slightly larger prongs than a 6-prong setting would have for a bigger diamond."
Which prong setting is better comes down to personal preference and your chosen diamond shape.
4 Prong Engagement Rings
Consider the following pros and cons before choosing a 4-prong setting.
Pros:
Minimal coverage. With only four discreet prongs, this setting lets your diamond take center stage.
Enhances square-shaped diamonds. This setting is ideal for square or rectangular diamond shapes like a Princess cut. It emphasizes their linear shape and protects each corner.
Easier to clean. Fewer prongs make it easier to clean your diamond ring at home.
Emphasizes carat weight. Fewer prongs help a smaller diamond look bigger.
Cons:
Less suitable for active lifestyles. 4-prong settings leave more of the diamond exposed. If you plan to wear your ring regularly but live an active lifestyle or have a hands-on career (nurse, trainer, cook), this may not be the best choice. If you accidentally break a prong, the diamond is more likely to fall out or chip in a 4-prong setting.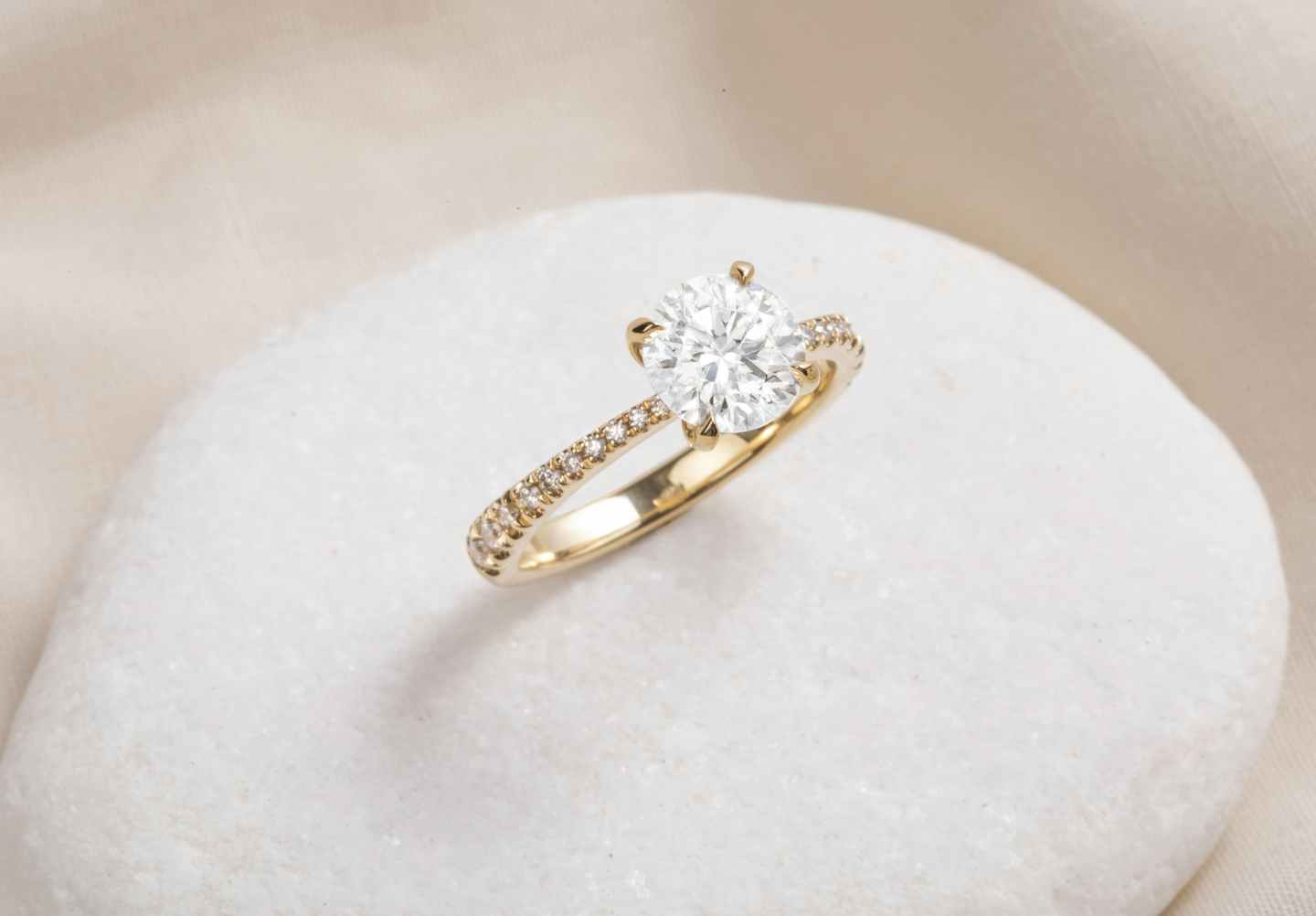 6 Prong Engagement Rings
Before buying a 6-prong engagement ring, consider the following.
Pros:
More coverage. 6-prong settings will cover the diamond's points and its girdle, providing more protection.
Additional security. If you live an active lifestyle and regularly wear your engagement ring, you may prefer two extra prongs. If a prong unexpectedly breaks, the diamond will most likely stay in place.
Emphasizes round diamond shapes. If you have a rounder diamond shape, six prongs will enhance the circular appearance.
Cons:
More noticeable. More prongs may take away from the center diamond's beauty or change its shape, especially at lower-carat weights.
Harder to clean. Additional prongs create more crevices for dirt to gather and are harder to clean.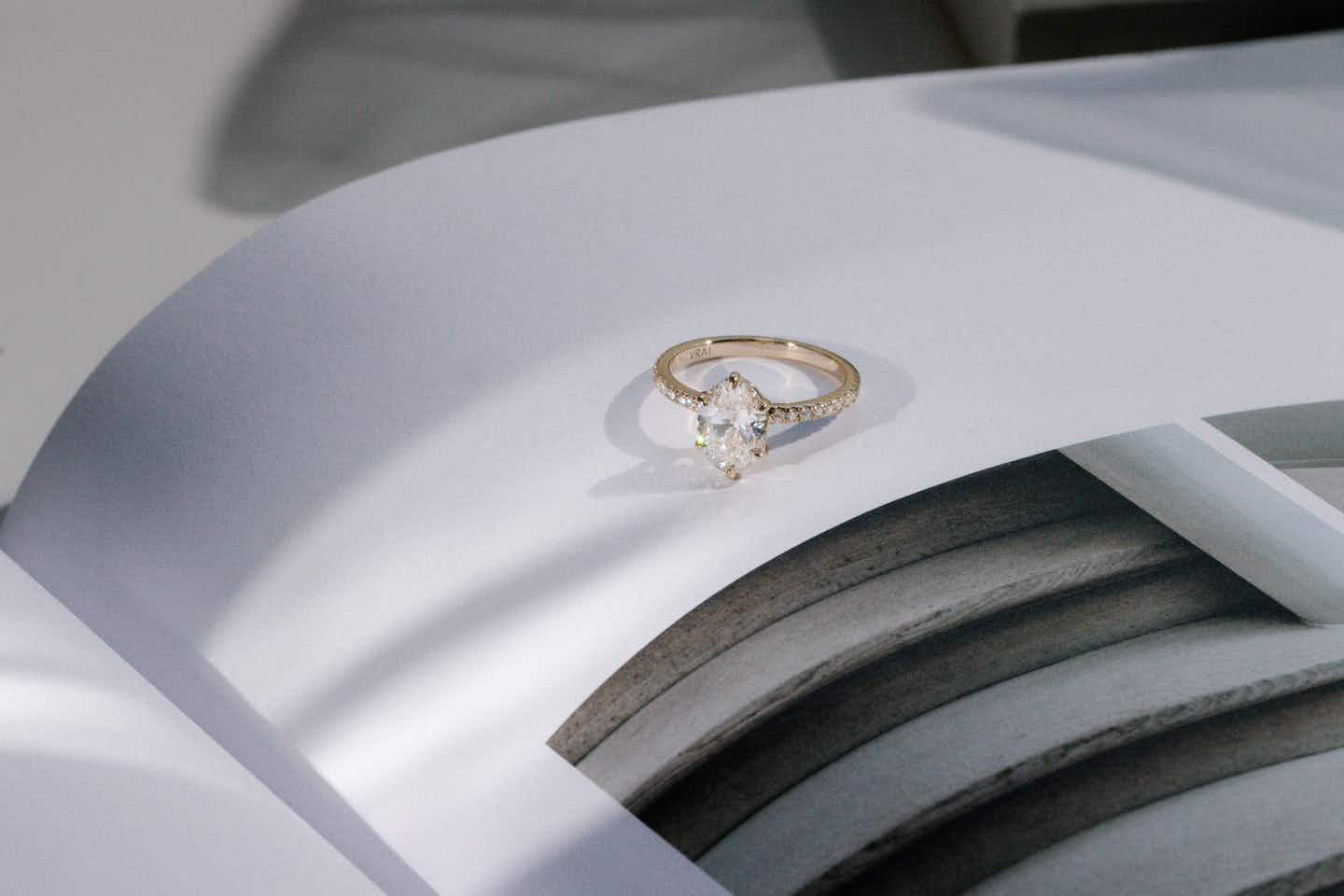 Prong Setting Types
There are several different engagement ring prong styles to choose from. Some prong types are more noticeable while other shapes are more secure.
Claw Prongs
Claw prongs, also known as pointed prongs, are sleek and minimalist. This popular prong style resembles a claw, with a narrow pointed tip. Claw prongs are longer than round prongs, which makes them more secure.
Claw prongs are also less noticeable. "The beauty of our soft claw prongs is that they tend to disappear amidst the sparkle of your diamond," says Taylor. Most VRAI prong settings feature soft claw prongs.
Rounded Prongs
The majority of prong settings have rounded prongs. As their name suggests, rounded prongs have a round tip that holds the diamond just above the girdle.
V Prongs
V prongs, also known as boot prongs, are preferred for diamond shapes with pointed edges. Thanks to their v shape, boot prongs perfectly encircle a diamond's sharp point. You can choose V prongs when you create a custom designed engagement ring with VRAI.
Double Prongs
Double-prong engagement rings are known for their security and are perfect for larger diamonds. Double prongs are either pointed or round and feature sets of two slimmer prongs.
Tab Prongs
Tab prongs have a unique, square look that stands out from the classic prong settings. With their flat, square shape, they are less likely to catch on things.
Stay in touch and enjoy $100 off
Sign up for email or text and receive $100 towards a VRAI purchase over $750.
What Is the Most Popular Prong Setting?
A 6-prong setting is a popular choice due to its security and compatibility with Round Brilliant cut diamonds.
But a 4-prong setting is also a very popular choice for engagement rings. "Often people want to prioritize seeing as much of the diamond as possible. If that's the case, 4 prong is the way to go," Taylor advises.
How to Choose a Prong Setting
Select your preferred diamond shape and carat weight before choosing a prong setting. These factors determine which prong setting will create your preferred look and provide the right security. 4-prong settings are generally best for diamonds under 1-carat while 6-prong settings are preferred for diamonds above 2 carats.
Next, consider your lifestyle. If you live an active lifestyle, you'll want to avoid high-set prongs, thin prongs, and fewer prongs. This includes careers or hobbies that are more hands-on where you could easily damage your ring, such as bartender, fitness instructor, or mechanic. This can also include any lifestyle that requires you to regularly be in environments that make it difficult to retrieve your ring if it falls off (pools, woods, construction sites).
Lastly, it's important to choose a reputable diamond retailer to ensure that the prong setting is high-quality. Prong settings need to be made from durable, premium materials and set securely and evenly to hold your diamond in place.
What Metal Is Best For Prong Settings?
Diamond shape and diamond color grade determine the best metal color for a prong setting.
Platinum is wear and chip resistant, which makes it an excellent choice for prong settings. But, if your diamond has a lower color grade, white gold or platinum prongs can make the center diamond look darker.
For lower color grades, yellow gold is preferred. Prioritize choosing the same metal color as your ring band to create a cohesive look.
All VRAI prong settings are expertly crafted from pure platinum, 18k solid gold, or 14k solid rose gold to ensure that your prong setting will last.
Are Certain Prong Settings Better For Different Diamond Shapes?
Prong settings work beautifully for all diamond shapes. But certain prong settings do look better on different diamond shapes depending on the prong placement.
4-prong settings typically create a squarer appearance. You may prefer a 4-prong setting for:
Emerald cut diamonds
Asscher cut diamonds
Princess cut diamonds
Radiant cut diamonds
Oval cut diamonds
6-prong settings enhance and elongate rounder diamond shapes. You may prefer a 6-prong setting for:
Round Brilliant cut diamonds
Marquise cut diamonds
Hexagon cut diamonds
Cushion cut diamonds
Prong Settings FAQs
Read on for any remaining questions about prong settings.
How Many Prongs Should an Engagement Ring Have?
The optimal number of prongs for an engagement ring depends on the diamond shape, ring style, and lifestyle. It's important to choose a setting that has enough prongs to cover each pointed corner or pointed tip.
Is 6-Prong Setting More Expensive?
6-prong settings are slightly more expensive than 4-prong settings as they require more metal. When compared to other engagement ring settings, prong settings are one of the least expensive engagement ring settings overall.
What Is the Most Secure Setting for Diamonds?
8-prong settings are considered the most secure prong setting but they are only recommended for diamonds over 3 carats as the prongs will overwhelm smaller diamonds. For the average diamond engagement ring, a 6-prong setting will offer enough security.
Can You Change the Engagement Ring Prongs?
You can replace the prongs on your engagement ring if they break, are damaged, or show wear. Always take your ring to a professional jeweler if you need to change or retip a prong.
How Often Should You Get Your Ring Prongs Tightened?
Consider having a professional jeweler check your engagement ring prongs every six months to a year. Regular maintenance and cleaning will ensure your prongs stay secure and intact.
All VRAI engagement rings include a complimentary annual cleaning and check-up.
Can a Prong Damage the Diamond?
Prong settings will not damage the diamond but prong settings don't cover the entirety of a diamond. If you're not careful or live an active lifestyle, it's possible to damage the exposed parts of the diamond.
Shop Prong Ring Settings With VRAI Created Diamonds
VRAI prong engagement rings are expertly crafted to beautifully and securely highlight a VRAI created diamond. A VRAI created diamond is a Carbon Neutral Certified lab-grown diamond that is created in our zero-emission foundry and then cut and polished by master craftspeople.
With our lab-grown diamonds, it's possible to buy a diamond engagement ring that reflects your values and taste. Plus, you can get more carats for less.